The Scarlet Empress
Talk

0
3,907pages on
this wiki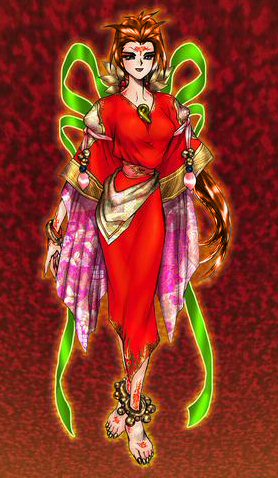 Background
Most histories of this illustrious lady begin with her as a junior officer who by grace of the Dragons gained control over an Anathema artifact that destroyed the Fair Folk Scourge that came at the tail end of the Great Contagion
That ignores a certain amount of truth. Scarlet(as that is her real name, Empress is a Backronym from her looming presence over Creation) was the product of bored Shogunate officials trying to Breed a superior Dragonblood, perhaps they did succeed, her breeding is strong, she has natural aptitude for Sorcery above the Emerald Circle and could practice Celestial Martial Arts without a Tutor. Less favourable types might point out the possibility that perhaps her Engagement to her Husband has been far longer than 5 Years.
Suffice to say with the power of the Defense Grid she ruled over the Blessed Isle for the History of the Second Age. She also Bullied much of the rest of creation into accepting her rule.
Until 5 Years ago and her Husband dragged her off for an extended Courtship.
Personality
She is a strong Confident woman. who seems to have a Tsundere relationship with her husband to be. This broadly confuses much of Hell as there is a strong suspcion that she's just a Brainwashed Akuma, and yet why would The Ebon Dragon willingly take such abuse?
Other than that she does seem to treat Lillun very well when she goes to visit and has occasional bouts of depression when thinking about all of her other children.
She has sent the occasional Fiend to procure Pizza from creation.
Proteges
---