Sejzha Like the Brook
Talk

0
3,907pages on
this wiki
Category page | Redirected from Sejzha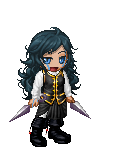 "Character quote"
Description
Edit
Her spirit shape is an ermine -- swift, sleek, nimble in mind and body, and quite capable of taking your finger off if you poke it wrong. The totem fits her. Sejzha is sarcastic and arrogant, always wondering (often aloud) why everyone else hasn't caught up with her yet. Her internal censors spend a lot of time on vacation. Yet under the bluster and condescension, she's loyal to her friends, remarkably compassionate (if bad at showing it), and fiercely brave in the face of danger. There's a good person in there... somewhere.
Physically, she's a willowy woman with dark, dark blue eyes and a wavy wealth of blue-black hair. The eye usually slides right over the blue-black paw-pads on her palms and the soles of her feet. She dresses in traditional clothing from her Eastern Haslanti home -- puffy sleeves, high-collar bodice, overskirt, leggings, heavy black boots. She carries a Hair of Luna, an apparently-ordinary longbow strung with moonsilver. She has a disconcerting habit of just not being where you expect her when you expect her.
Her spirit shape is an ermine -- a creature like a large, snow-white ferret with black-tipped tail and paws, whose black nose and fathomless black eyes are the only break in its perfectly white face. The war form is an intermediate between human and ermine: about eight feet tall and impossibly flexible, with short limbs tipped in wicked black claws and a mouth full of needle teeth, it combines the most dangerous elements of Sejzha-human and Sejzha-ermine. In all three true forms, her moonsilver tattoos wind over her body in patterns reminiscent of wind, water, and falling snow. To those who can read Claw-speak, they tell the story of an eventful set of Trials and tattooing.
Thoughts on Party Members
Edit
Sejzha can't explain why, but she sort of likes Riptide. She thinks he's a moron, but a very charming one, and tends to treat him a little like she'd treat an idiot brother. She thinks Trunk of Withering Blossoms is far too hung-up on protocol to get much of anything done -- paperwork isn't the end of the world, and most of the gods are too full of themselves not to need a good prodding now and then. Kai is too quiet for her to have gotten much of a handle on. Takara -- well, if he could stab the Silver Prince as a mortal, she can't wait to see what he'll do now that he's a Solar! Not that she won't be watching him very carefully -- it's always the brilliant ones that are the most trouble. Hijinks await.
Pages in category "Sejzha Like the Brook"