Midnight Seen with Closed Eyes
Talk

0
3,903pages on
this wiki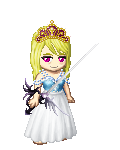 Midnight Seen with Closed Eyes was a Midnight caste Abyssal and the fifth member of the First Age Circle. She was the current incarnation of Amyana. Her mortal name had been Rippled Water.
The party first encountered her in the Tomb of Amyana, in which she barely escaped. The party later found a recording of her in the Oasis of the Damned. Finally, she was slain in the tomb of Brigid.
Midnight was a fair, slender, innocent-looking woman with long, straight blonde hair and always wearing a white dress. She smiles a lot, laughs often, and seems quite pleasant to be around until she starts revealing her true nature. She takes great pleasure in killing things, seeing it as an altruistic duty to keep living herself to cause more death. Given the option, she draws out the process so the victim can fully appreciate it. Her most unnerving feature is her eyes, which are a pale reddish pink, as though the color had been sucked out of them. When she attacked the party in her tomb, she drew a long, bone-white knife. In the Oasis, she picked up a golden crown.
Midnight's title seemed to mirror her philosophy, and when she began espousing the virtues of the Void to Fern it angered the usually-calm Twilight.
Tomb Encounter
Edit
Midnight offered piteously to free the party from their "fleshy prisons", a bargain that was immediately declined with violent action. The Abyssal then stepped into a captive Sidereal and was gone. Thinking that she may have possessed him, the party slew the Sidereal immediately, but the ease by which this was accomplished seemed to imply that she had instead escaped.
Oasis Encounter
Edit
Midnight was carrying a bag presumably filled with the spoils of Arcadi's tomb. She was with Howl of the Void and another unknown Abyssal, and she made clear her affections toward the former before the latter interrupted.
Midnight attempted to ambush the party and flee, but Dax managed to cut off her escape route. She called out to an assortment of necromantic monsters which the Abyssals had laid in ambush, and a truly epic battle ensued. She was eventually taken down, but as she did, she somehow summoned her master, The First and Forsaken Lion, who spared the party to further his own machinations. Largo reclaimed the crown as his own.