LaySG1 s01e07
Talk

0
3,907pages on
this wiki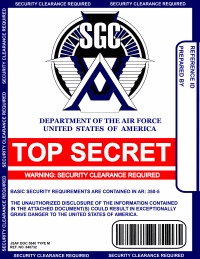 Pre-Mission Briefing
Edit
Mission Date: August 29, 2005
Objective: Establish a mining rights treaty with the inhabitants of P83-2YK
Roster: SG-9l, SG-21
Special Equipment Issued: None
Commanding Officer: Maj. Gen. George Hammond
Summary: Analysis of geological samples obtained by SG-2 has indicated that P83-2YK contains sufficient quantities of Trinium to justify extended mining operation. SG-9 will negotiate a mining rights treaty with the local population in accordance with SGC protocols. Based on SG-2's report on the political situation planet-side, SG-21 will accompany SG-9 in a support capacity; Colonel Kovacek of SG-9 will have command of the mission. Due to the ongoing tensions between the two dominate nation-states on P83-2YK, strict diplomatic protocols will be in effect for the duration of this mission*.
Attachments: SG-2 Mission Report: P83-2YK; Spectrographic Analysis of Mineral Samples from P83-2YK
The short version of diplomatic protocols:
Gear Restrictions: No explosive ordinances, no infiltration/espionage equipment, no heavy weapons (limited to SMG class or lower; Goa'uld Staff Weapons are allowed) Behavioral Restrictions: Unless authorized, do not engage native representatives, remain neutral in any conflicts.
Character Improvements
Edit
Colonel Atlas Hughes: +1d Stealth, +1d Intimidation, +1d Leadership (6 XP)
Ann Felger: +1d Body, +1d Mind (10 XP)
Mordecai: +1d Security Systems, +1d Persuasion, +1d Surveillance (6 XP)
Nadel/Sodan Guy:
Mission Summary
Edit
The team is supporting the diplomatic SG-9 team to the world of Lacon. They meet in the Tent of Conference (pronounced kun-FER-ens) with Representative Schuul. Afterwards, Mordecai and Ann go to the Bureau of Geology to study the records there and meet with Bureaucrat Ellkahn. All of the records there are in two languages, a dialect of Hindu and the Goa'uld language.
Meanwhile, the negotiations aren't getting anywhere back at the Tent. Suddenly a new figure appears named Ambassador Trammil, who accuses Schuul of negotiating with the Tau'ri in secret, violating the Thousand Day Treaty (or something). The Ambassador demands a seat at the table for "The Alliance", the rivals of the Laconi. The next day, SG-9 plays the factions against each other to reach a more favorable agreement. The Ambassador privately approaches the teams and offers an Abandoned Naquadah Mine from The Alliance. They also send their expert (who is also the Ambassador's wife), Professor Harmal, and the group meets up at the Bureau of Geology.
"Above the archway, it says 'Welcome to the School of Rock' *guitar riff*" -At the Bureau of Geology
"Is it next to a bakery called the 'House of Rolls'?" - Bryan
"Hey, the Goa'uld standardized the production of their Naquadah mines. That's why they look the same." -Hahns "Yeah, and that's also why they terraformed all of their planets to look like Vancouver." -Jared
"When they add the trees, they Va'n'ka'oo'ver it. It is an ancient Goa'uld word meaning 'inexpensive filmmaking'." - Steve