Kay Eriya / Die Östlichen Lande / Torngarn / Hochlandkönigreiche / Andar / Amber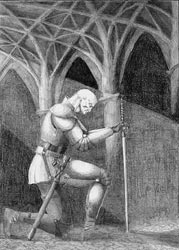 "Du kommst zu mir damit du eins mit der Waffe wirst, denn kämpfen kannst du schon. Aber bist du dir sicher, daß die Waffe auch Eins mit dir werden will?"
Geist der Waffe, 46, 196 cm; rechtes Ohr fehlt, keine Haare, graue Augenbrauen, hellblaue Augen, arkane Begabung; Konzil der Drei. Sein Ruf in Amber ist legendär. Er führt das Schwert Ektegrid des Älteren. Nur wenige wissen, daß Isegrid ungeheure Kräfte über sein Schwert fokussieren kann.
Er unterrichtet nur einen Schüler, Asred (Rang 4). Die meiste Zeit außerhalb der Übungsstunden ist er in der Bibliothek der Burg anzutreffen.
Dort widmet er sich hauptsächlich strategischen Werken. Manch einer glaubt zu wissen, daß Isegird an einem eigenen Werk schreibt. Er zog unter dem Banner des alten Hochkönig von Torngarn in die Schlacht und soll innerhalb des Heeres hohe Positionen inne gehabt haben. Man sagt, er habe den Schwur auf den neuen Hochkönig nicht geleistet und sei den Schwur auf den neuen Hochkönig nicht geleistet und sei deshalb aus der Armee ausgetreten. Auch soll er gemeinsam mit dem verschwundenen Königssohn Seite an Seite gegen das einfallende Chaos in Nulg gekämpft haben.
Ad blocker interference detected!
Wikia is a free-to-use site that makes money from advertising. We have a modified experience for viewers using ad blockers

Wikia is not accessible if you've made further modifications. Remove the custom ad blocker rule(s) and the page will load as expected.