Kay Eriya / Die Östlichen Lande / Torngarn / Hochlandkönigreiche / Andar / Amber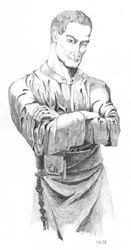 "Es gibt viele Götter. Dein Gott ist einer von ihnen. Sie reden alle auf die eine oder andere Weise miteinander. Nur so kann man von dem anderen lernen und ihn verstehen. Versuche über dein Gegenüber Bescheid zu wissen und du wirst eine Lösung finden."
Herr der Seele, 25, 180 cm; grau meliertes Haar, graue Augen, dunkle wohlklingende Stimme; Schüler Echnarbets, Konvent der Seele. Hegegard tritt väterlich und offen auf. Seine Stärke liegt im Zuhören. Sein Rat ist der Mittelweg, egal ob im Kampf oder im Gespräch. Er sucht die Konfrontation nicht in der Vernichtung des Gegenüber. Unter König Antanor und dessen Vater zog er bei Schlachten als Priester und Heiler mit. In Amber ist er zumeist im Tempelbezirk der Schule zu finden, wo er das Lazarett betreut.
Ad blocker interference detected!
Wikia is a free-to-use site that makes money from advertising. We have a modified experience for viewers using ad blockers

Wikia is not accessible if you've made further modifications. Remove the custom ad blocker rule(s) and the page will load as expected.