Haus Pardalon
Jeder Schatten ist, für sich betrachtet, ein Bruder des Lichts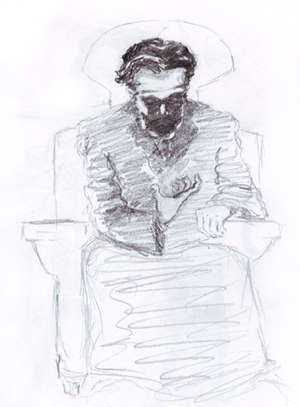 Gründungshaus.
Das Haus Pardalon ist eines der ältesten Häuser in der Kol'abaha. Seine Mitglieder gehörten während der Kaoronen und danach zu den am schärfsten verfolgten Hexern. Die Schattenmagier des Hauses Pardalon berufen sich auf die Tradition einer versunkenen Kultur: der Droojas, schwarzhäutige und weißhaarige elbenartige Wesen, die auf einem Kontinent im Norden Kay Eriyas lebten und als ausgestorben gelten.
Die Göttin Sibou soll eine Drooja gewesen sein, bevor sie sich in die Himmel des Pantheons erhob. Legenden zufolge soll ein anderer mächtiger Drooja die Kaoronen überlebt und eine sehr wichtige Rolle in den Wendekriegen gespielt haben: Meyil, der Schattenherr. Sein Verhältnis zum Haus Pardalon ist allerdings in der Kol'abaha unbekannt.
Das Haus Pardalon war vor dem Fall von Tinalya sehr mächtig und dominierte einen großen Teil von Phoraman. Der Fall von Tinalya bedeutete fast das Ende des Hauses. Die große Zeit des Hauses Pardalon wurde durch einen Konflikt mit dem Haus Anichahan endgültig beendet. Die heute noch vorhandenen Pontifizes des Hauses leben zurückgezogen in Klöstern am Süd- und Westrand von Phoraman und mischen sich in die große Politik vordergründig nicht mehr ein. Auf den Conclaven hält sich allerdings hartnäckig das Gerücht, dass das Haus von der Belebung der Region Arbaria Tar-Malata und dem Projekt Wiederkehr massiv profitiert hat und etwas im Schilde führt, von dem die Bonzen in Phoraman nicht einmal zu träumen würden wagen...
Ad blocker interference detected!
Wikia is a free-to-use site that makes money from advertising. We have a modified experience for viewers using ad blockers

Wikia is not accessible if you've made further modifications. Remove the custom ad blocker rule(s) and the page will load as expected.