HAUS BARYL
Regeln sind da, um befolgt zu werden. Stärke durch Ordnung, Reinheit durch Struktur.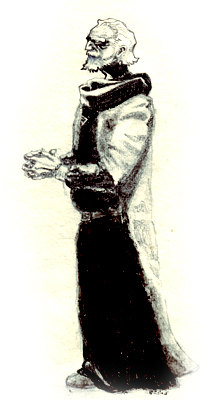 Einleitung
Edit
Haus Baryl ist innerhalb der Kol'abaha der Inbegriff des archetypischen Kol'abaha-Hauses. Mittlerweile zählt es zu einem der einflussreichsten Häuser in der gesamten Union der Mysterien und hat seit der Zeit der Wende für Arbaria Tar'Malata in unermütlichen politischen Machinationen und Forschungsprojekten einen enormen Auftrieb verschafft. Dabei hat das Schicksal des Hauses mit kleinen Forschungsprojekten eines kleinen Gelehrtenkreises rund um den Magier Baryl begonnen. Nach Entdeckung alter, mächtiger Ritualmagie wurden die Ziele dieses Zirkels aber sehr ambitioniert und nach der Schaffung eines Hausstatus initiierte Magus Baryl das Projekt Wiederkehr von Arbaria Tar'Malata. Im engsten Verbund mit einigen anderen Häusern gelang es dem jungen Haus die Wurzeln der Kol'abaha wiederzuentdecken und eine neue, einheitliche Grundlage zu schaffen für gemeinsame Kultur und zeremonielle Zauberei.
Heute verzeichnet das Haus sehr grossen Zustrom an Adepten und ist politisch wie magisch untriebiger denn je. Es gibt nicht wenige, die unter vorgehaltener Hand wetten, dass der nächste Coronatus durch aus aus dem Hause Baryl kommen könnte.
Mitglieder
Edit
Hieroarch
Edit
Der Gründer Baryl ist noch hoch aktiv. Trotz seines sehr hohen Alters bildet er nach wie vor Lehrlinge aus und betätigt sich, allerdings in abnehmendem Maße, in der Kol'abaha-Politik.
Herzkloster
Edit
Als Herzkloster des Hauses Baryl fungiert das gewaltige und legendäre Erzkloster Cryan, in dem auch die Häuser Molanwy und Charash ihr Zentrum haben. Cryan ist mehr mit einer stark befestigten Stadt denn einem Kloster vergleichbar. Dem Haus Baryl ist dabei ein eigener Bezirk in Cryan gewidmet, dessen Zentrum die grosse Bibliothek von Cryan bildet, die von Haus Baryl gepflegt und gehütet wird.
Im Kloster residieren derzeit 24 Magier des Hauses Baryl und eine Heerschar an Gefolge und Schwarzmäntel.
Weitere wichtige Personen
Edit
Geschichte
Edit
Spell Crafting
Edit
Longevity
Edit
Forschung und Studien
Edit
Mentalitäten und Strömungen
Edit
Ad blocker interference detected!
Wikia is a free-to-use site that makes money from advertising. We have a modified experience for viewers using ad blockers

Wikia is not accessible if you've made further modifications. Remove the custom ad blocker rule(s) and the page will load as expected.