Kay Eriya / Die Östlichen Lande / Torngarn / Hochlandkönigreiche / Andar / Amber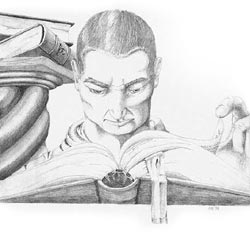 "Ich habe sicher das richtige Buch. Es gibt für jeden ein Buch. Man muß es nur richtig lesen können."
Herr der Seele, 65, 170 cm, schütteres kurzgeschnittenes Haar, Schüler Echnarbets. Seine Vorliebe für Schriften aller Art entdeckte Eknegurd erst recht spät. Sein Wunsch war es anfangs, mit einem Heer mitzuziehen und den Verwundeten Heilung zu spenden. Als er das zweite Mal in die Schlacht zog, fiel ihm bei der Plünderung einer Bibliothek ein Buch in die Hand. Es beschrieb den Werdegang eines jungen Priesters, der durch seine Belesenheit und Wortgewandtheit einen König davon überzeugen konnte, sein Kloster zu verschonen. Seit dieser Zeit ist er immer in der Bibliothek anzutreffen. Später übernahm er die Arbeit des alten Bibliothekars Lothreff. Es gibt kaum ein Buch in den Bibliotheken Ambers, über dessen Inhalt Eknegurd nicht Bescheid weiß.
Ad blocker interference detected!
Wikia is a free-to-use site that makes money from advertising. We have a modified experience for viewers using ad blockers

Wikia is not accessible if you've made further modifications. Remove the custom ad blocker rule(s) and the page will load as expected.