Chancellor of the Greater Reydovan Imperium
Talk

0
3,907pages on
this wiki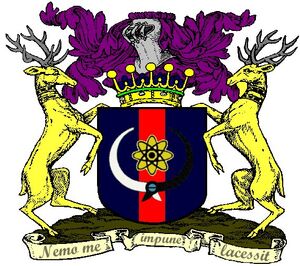 The Chancellor of the Greater Reydovan Imperium is the head of government of the Greater Reydovan Imperium, formed by the joining of the Imperial Reydovan Empire and the Gorak'nar Commonwealth on January 1, 2407. The Chancellor is appointed by the Reydovan Emperor and confirmed by the Council of Nobles.
The first and current Chancellor is August von Spee, Baron of Icecrown Province; he was appointed Chancellor of the Reydovan Empire by Emperor Kieran II on October 24, 2406, and was unanimously named to be the first Chancellor of the Imperium.
The post was created specifically for Joshua Underwood in 2321 by Emperor Kiran Joshmaul I, in order to reduce the Emperor's workload in running the government. In March 2375, Joshmaul abdicated, and Underwood assumed the role of de facto head of state as well; following the temporary defeat of Artimus Devaneaux (who had claimed the throne for himself in October) on December 13, 2375, the Emperor's title was abolished, and the Chancellor became the official head of state as well as head of government. The Emperorship was restored in March 2376 with the ascendancy of Emperor Kieran Devaneaux I. In 2380, Chancellor Underwood resigned and turned it over to the Governor-General of Reydovan Prime, Alexander Ross. After Ross' death in 2403, it was vacant until the appointment of Marshal Jeremiah Neill. After Neill was disgraced in 2406, he was replaced by Spee, who held the title until the dissolution of the Reydovan Empire.
Forms of Address
Edit
The Chancellor is addressed by his title, or as "Your Excellency". Military officers or members of the nobility have also allowed their ranks to be used in their forms of address; for instance, Jeremiah Neill could have either been referred to as "Marshal Neill", as his esteemed rank of Marshal of the Reydovan Empire allowed, or "Count Neill" - at the time, he was the recognized Count of Easthaven. After his downfall, he was stripped of his noble title.
Forms of Address for the Reigning Chancellor
Edit
August von Spee, the reigning Chancellor, prefers the following forms of address:
Reference Style: His Excellency
Spoken Style: Your Excellency
Alternative Style: Doctor or Baron