Kay Eriya / Die Östlichen Lande / Torngarn / Hochlandkönigreiche / Andar / Amber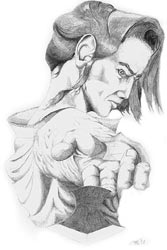 Diener der Waffe, 25, 179 cm, blau - schwarzes langes Haar, dunkler Teint; Schüler Isegirds.
Oft ein wenig zu impulsiv für den Geschmack seines Meisters, ist er ein gelehriger und talentierter Schüler. Seine Hauptwaffe ist das Schwert. Aus Nulg stammend zog er die Aufmerksamkeit Isegirds auf sich, als er bei einer Verteidigungsschlacht gegen das anstürmende Chaos mehrer Minuten lang die Bresche in der Wand hielt bis Verstärkung eintraf. In den zwei folgenden Schlachten kämpfte er an der Seite seines jetzigen Lehrmeisters. Mit fünfjähriger harter Kampferfahrung trat er in Amber ein. Sein Aufsieg war unaufhaltsam, mit 22 hatte er Rang 3, mit 24 absolvierte er die Prüfung zum Diener der Waffe.
Ad blocker interference detected!
Wikia is a free-to-use site that makes money from advertising. We have a modified experience for viewers using ad blockers

Wikia is not accessible if you've made further modifications. Remove the custom ad blocker rule(s) and the page will load as expected.